Kat, Incorrigible. It's a charming story set in an alternative Regency England where there are witches and magicians. Kat is the youngest daughter of a clergyman. She finds both her older sisters often trials (the oldest is a saint/very aware of the proprieties and the 2nd oldest is...an older sister with a temper). Their mother died soon after Kat was born. When their father remarried a few years later, Stepmama had everything locked away or removed or destroyed.

Currently, their brother has been sent down and has numerous gambling debts. There's a possibility that the oldest sister might be able to marry a quite wealthy but older gentleman and thus save the family. This gentleman is rumored to have murdered his first wife...

Also, it turns out that their mother was a witch and a "guardian" aka magician. So many hijinks ensue.

If you liked the Regency books by Wrede and Stevermer, you should like this one. I think it reads a bit younger, but it's still fun and kept me going. I'm definitely going to get the next two books. The 3rd one was just published in hard cover recently.
Upon seeing several recommendations (Sherwood Smith?) online, I decided to pick up one of Stephanie Burgis's books,
Current Mood:

cheerful

Current Music:

beef, it's what's for dinner theme aka Rodeo by Copland
River of Stars in a relatively short time. It's set in the same world as Under Heaven but a few hundred years (and dynasties) later in what is the Sung/Song dynasty in our world.

The two main characters are Ren Daiyan, second son to a civil government clerk, and Li Shen, daughter to a civil servant. Ren is convinced from a young age that he will take back some provinces lost to the barbarians years ago. Li is a well-educated (too educated to many people) poet who ends up caught up in the court and whose story intersects Ren's later in the book. There are plenty of other characters--the book is over 600 pages. Kitai (China) is threatened again by steppe tribesmen and stands to lose even more territory. The emperor is weak, and competing court factions. Generals are also usually ineffectual because the emperor and court know that in history, a strong or charismatic general often ends up emperor or at least forcing a change in government.

Unlike many of Kay's other thinly-disguised historical novels, there's some obvious fantastic elements: a fox-woman and several ghosts, among others.

Early in the book, Ren abandons his life for the forest. I thought it was going to turn into a retelling of Musashi, but nope.

Kay is very good at mythic moments and much of this book is filled with statements about how the path could have changed is X didn't happen. I thought some of these worked better than others. I was happy that Ren didn't have every woman in sight in love with him (unlike some of this other books). Not my favorite Kay, but up there.
By losing sleep mainly, I managed to finish Guy Gavriel Kay's
Current Mood:

content
Emilie and the Hollow World. It's set in a secondary world (do I have that terminology correct? It's not earth, that's for sure) with roughly Victorian era technology leavened with magic. Emilie is a teenager who decides to run away from her aunt and uncle's house and live with a cousin (I believe) who's running a school. She hasn't actually checked with the cousin and partway there realizes that she's out of money. While trying to sneak aboard a ship, she ends up on an exploration vessel. The ship is traveling to the interior of the world where there's a whole other world and races. The expedition also plans to find and rescue an earlier group. One of the hollow world residents has managed to reach the daughter of the previous expedition's leader. This expedition has been plagued with problems and just manages to start off--with Emilie still aboard.

It took me quite a while to get into the story. I felt a disconnected from the characters, even Emilie, plus the story dragged for me until a good hundred pages in, when everything picked up nicely and I tore through the rest of the book in a few days. That's quite a feat with twin almost-toddlers. I was also disappointed with the world and character-building. Because we didn't spend much time in Emilie's land, we don't really know much about it. In the Hollow World, we meet two races but in some ways end up learning more about the 'bad' race then the one that's helping the expeditions. Particularly in comparison to Wells' Raksura series, it's lacking.

There are some possibilities in the characters like the Marlendes (previous expedition leader and a magician-philosopher-scientist plus his daughter who's his assistant) but they feel sketchy to me. I think a lot of this is because of the YA slant. The book's about 300 pages, not small print.

Regardless, I did like the book and feel the series has potential.
I pretty quickly managed to finish a YA book in a (hopefully) new series by Martha Wells called
Current Mood:

chipper

Current Music:

fun.
Emilie and the Hollow World. A couple of days ago, I finished Steel Blues by Melissa Scott and Jo Graham. It's a sequel to Lost Things and part of the Order of the Air series. I read Lost Things last year. While I enjoyed it, and looked forward to Steel Blues, I found the set-up and character introductions to be a bit slow. With that of the way, I thought Steel Blues moved along a much quicker clip and was the better for it. Set in the 1930s, during the Great Depression, Gilchrist Aviation is struggling after losing a lucrative mail contract. Gilchrist Aviation is owned by Alma Gilchrist Segura and Mitch Sorley. Alma was married to the previous owner, who died, and is now married to Lewis Segura, another pilot. A friend, Dr. Jerry Ballard, also resides with them. He was an archaeologist, but now pieces together work translating and writing a few papers after losing a lower leg in WWI.

They decide that they could save the business if they win a cross-country passenger air race. They don't have the entrance fee, but Henry Kershaw, who owns an aviation company (they have one of his planes) and whom they saved in the previous book, owes them a favor. Duly entered, Alma has a trick up her sleeve that should give them an edge, and an almost sure-fire win. Of course, things get complicated and don't go as planned.

The aviation details are good. I find them quite interesting. I'm definitely looking forward to book 3, Silver Bullet.
Yeah, early April, as if I'm going to finish another book this month. Actually it might happen because I've just started Martha Wells' new YA novel,
Current Mood:

calm

Current Music:

classical music (filtered through infant sleep aids)
Jennifer Roberson
about the Southron sword-dancer, the Sandtiger, and the Northern sword-singer, Delilah (Del). They were introduced to the world way back in 1985 in the anthology Sword and Sorceress II (ed. Marion Zimmer Bradley) in the short story, "The Lady and the Tiger." The first novel, which includes their first meeting, was in a novel released the following year called
Sword-Dancer
. Del comes from an egalitarian society, but her family was killed by raiders when she was a teenager and she and her brother were captured. She managed to escape and decided to train as a sword-singer to rescue her brother and exact revenge. As part of her quest, she hires/teams up with Tiger, one of the best, if not the best, sword-dancers of the south. He had grown up a slave in a desert tribe, managed to escape/free himself and decided to train as a swordsman. Many adventures later, he and Del (and a daughter) are settled into a lush canyon with friends, and a few students. Tiger's previously-unknown son had shown up and now accuses Tiger of domesticity, so the son, Tiger, and Del decide to take a trip.
Of course, stuff happens, and while a long-running enemy is neutralized by the end, a new one has been created.
The previous book was released over 10 years ago. I'm pretty sure that I've read the series since then, but it had been years. Roberson did enough in-cluing that I was able to recall relevant events from the earlier books quickly.
The books are all told from Tiger's viewpoint and the earlier ones contained a lot about him overcoming his chauvinism and transcending his society. Now, he knows Del is his equal, but I still found it incongruous that he didn't realize the problems that a young woman would have after being raped. He should have internalized that attitude along with everything else, rather than reacting all horrified as he did. Still a small quibble.
So. Sword and sorcery, but turned on its side, and in this volume only a small bit of sorcery.*
* Earlier books had much more sorcery and it looks like the next book will too.
Squeee! A new Tiger and Del novel! This is book seven by
Current Mood:

hopeful
http://xkcd.com/257/
):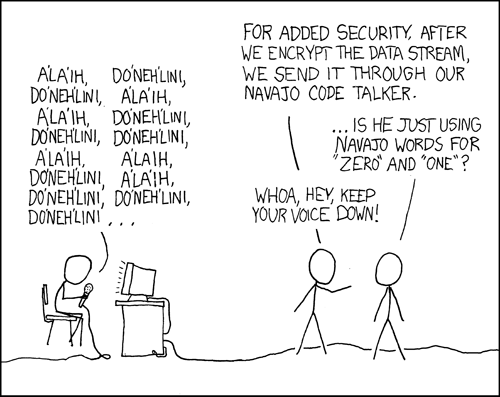 And, there's this one (under the cut) that was a great hit at work. People kept asking for weeks if I'd seen it (my specialty is map projections). If the cut doesn't work:
http://xkcd.com/977/
(
big xkcd comic
Collapse
)
After hearing on Andrew Wheeler's blog that there was a new Pearls before Swine treasury (the treasuries have some commentary by Pastis), and hunting it down on Amazon, I found that Randall Munroe had released a first xkcd collection. xkcd is a geek's web comic. He's a Physics graduate who did some doodling and started posting them several years ago. Here's one that tickled my fancy in the collection (if it doesn't show up, try
Current Mood:

still caffeinated
Impulse, I went back and reread Jumper and Reflex. Jumper i, of course, Davy's book about how he discovers he can jump and what he does with the knowledge. Reflex is more Millie's book, although the viewpoint switches between her and Davy. I mentioned to a friend of mine that Impulse was out and he reminded me that he had read Jumper on my recommendation years ago but thought that it had too much torture. There is, actually, but it's also a geek's revenge book too (all of them). So I find them quite satisfying and lots of fun to read.

I was surprised at home many details I had forgotten. I have read Jumper multiple times, but not for several years, and I may have read Reflex only once or at most twice. That'll have to change! Somehow.
So after finishing
Current Mood:

caffeinated

Current Music:

of monsters and men (little talk)
Steven Gould
has a new book in his Jumper series,
Impulse
. It takes place around 18-20 years after
Reflex
, the second book in the series. The first book is Jumper, about a boy, Davy, who learns that he can teleport under stress. He learns to control it and the book is about what he does with the abilities. And, about what other people will do to control that kind of power.
Reflex
continues Davy's story but is also about his love, Millie.
Impulse
is about Davy and Millie teenage daughter, Cent. She's desperate to go to school and start socializing with people, particularly those her own age. She's grown up in the Yukon, but with some short trips with her parents. Under duress, she learns that she can teleport too so the issue of school becomes critical. While the main story is Cent's, there are shorter storylines with Davy and Millie which are quite welcome. The shadowy multinational which chased Davy and Millie in the earlier books raises its head, so there's definitely room for further adventures. I saw somewhere that the next book will be called
Exo
.
The science of teleportation is explored further with Cent coming up with some new abilities. Ostensively young adult, the whole series is recommended for adults too. There's a fourth book,
Griffin's Story
, but it was a tie-in to the not-so-good movie and isn't canon. I'm now planning to re-read
Jumper
and
Reflex
.
Huh. I just realized that I just finished my first book of 2013 as I was writing the subject line. Happily, it was an excellent book! After several years,
Kiss the Dead, was a refreshing change as it focused more on her work with RPIT (the local police force that deals with paranormal crimes). There wasn't a sex scene until about halfway through the book! And then they seemed minor, and um, boring. Also not too much angst. The angst was mainly about the newest werelion to join who's still a teenager. She does find a new side effect of the ardeur, but it was mainly under control.
Yes, I'm still reading the Anita Blake series, although the previous book just about hit my squick/bored buttons. This book,


A friend wanted me to review it and recommend some books for him. I don't know if this will help as I've read less than half the list.

Bold: Read and still own the book.
Italics: Read and do not own the book. Note: italics in the commentary is just to
mark book titles.
Underline: Have read other books by the author.

Commentary on unread authors is my personal impressions.

The Handmaid's Tale, Margaret Atwood (1985)
Ender's Game, Orson Scott Card (1985)
Genius child is sent to a brutal wargame school. Ground-breaking, but author's
politics and tropes have turned me off of him. I won't read anything new by him.
Radio Free Albemuth, Philip K Dick (1985)
Always Coming Home, Ursula K Le Guin (1985)
More tangential work.
This Is the Way the World Ends, James Morrow (1985)
Galápagos, Kurt Vonnegut (1985)
The Falling Woman, Pat Murphy (1986)
Set in Central/South America about a archaeologist and her estranged daughter.
The Shore of Women, Pamela Sargent (1986)
Always seemed too literary/feminist for me.
A Door Into Ocean, Joan Slonczewski (1986)
Feminist colony novel where the culture has become nonviolent, consensus-driven,
complete with new language, etc.
Soldiers of Paradise, Paul Park (1987)
Life During Wartime, Lucius Shepard (1987)
The Sea and Summer, George Turner (1987)
Cyteen, CJ Cherryh (1988)
I love almost all of Cherryh's books. She specializes in dropping a character
into the deep end. They end up sleep-deprived, often confused, but somehow manage.
Cyteen is the story of the clone of a scientist. She is being raised by trying to
duplicate how her 'mother' was raised in order to create another genius.
Neverness, David Zindell (1988)
The Steerswoman, Rosemary Kirstein (1989)
Appears fantasy, but is actually a lost colony story. The world's magicians have access to advanced technology. Main character is from a group that asks and answers questions. If you refuse to answer a steerswoman's question, the group will never answer another of your questions.
Grass, Sheri S Tepper (1989)
Tepper often uses a hammer to drive home her messages which has turned me off of her later works. Grass is near the beginning of this trend. I'm not sure whether I do still have this book. I like her earlier Mavin Manyshaped books more.
Use of Weapons, Iain M Banks (1990)
A Culture novel. Far future space opera, more or less. The Culture is an enlightened, galaxy spanning group that tries to bring other planets into the pact.
Queen of Angels, Greg Bear (1990)
Bear has often tended more to the science fiction side, but is still character-driven. I couldn't finish one of his more recent books.
Barrayar, Lois McMaster Bujold (1991)
The sequel to Shards of Honor about a woman from a very liberal, technologically advanced world making her way on a patriarchial, war-loving world that's in the midst of revolution. Wonderful characters, fast plots are hallmarks of Bujold's work.
Synners, Pat Cadigan (1991)
One of the few female cyberpunk authors at the time. Very good writer.
Sarah Canary, Karen Joy Fowler (1991)
Seemed too literary.
White Queen, Gwyneth Jones (1991)
Eternal Light, Paul McAuley (1991)
British SF author. Four Hundred Billion Stars also excellent.
Stations of the Tide, Michael Swanwick (1991)
Timelike Infinity, Stephen Baxter (1992)
Not a fan of the other books I've read by him. Don't remember liking the characters which is usually a deal-killer for me.
Dead Girls, Richard Calder (1992)
Jumper, Steven Gould (1992)
Marvelous young adult novel about an abused teenager who finds he can teleport. Really tries to think through the consequences. Much, much better than the movie.
China Mountain Zhang, Maureen F McHugh (1992)
A near-future dominated by the Chinese. Main character is gay, but closeted due to societal pressures.
Red Mars, Kim Stanley Robinson (1992)
I get bored with his books sometimes although the writing quality is good.
A Fire Upon the Deep, Vernor Vinge (1992)
Aristoi, Walter Jon Williams (1992)
Hardwired and Voice of the Whirlwind are excellent, somewhat cyberpunkish.
Doomsday Book, Connie Willis (1992)
Great writer, but I don't always like her books. Not this book but others are more humorous for the genre.
Parable of the Sower, Octavia Butler (1993)
Ammonite, Nicola Griffith (1993)
Lesbian, feminist writer.
Chimera, Mary Rosenblum (1993)
Can't really remember anything about it or the other books by her that I've read.
Nightside the Long Sun, Gene Wolfe (1993)
Lush, writer's writer. I find his books wonderfully written, but
don't like the characters, and got bored with this series.
Brittle Innings, Michael Bishop (1994)
Permutation City, Greg Egan (1994)
Blood, Michael Moorcock (1994)
Mother of Storms, John Barnes (1995)
There's excellent John Barnes and then there's squicky John Barnes.
This book leans towards squicky Barnes. Maybe try Orbital Resonance
Sailing Bright Eternity, Gregory Benford (1995)
Straightforward hard sf writer.
Galatea 2.2, Richard Powers (1995)
The Diamond Age, Neal Stephenson (1995)
Snow Crash is probably a better choice, although I loved
Cryptonomicon. REAMDE was a technothriller.
The Transmigration of Souls, William Barton (1996)
The Fortunate Fall, Raphael Carter (1996)
The Sparrow/Children of God, Mary Doria Russell (1996/1998)
Holy Fire, Bruce Sterling (1996)
I read and enjoyed Islands in the Net.
Night Lamp, Jack Vance (1996)
Writing style is intricate and lush.
In the Garden of Iden, Kage Baker (1997)
Mendoza is a young woman saved from death by The Company, a
time-traveling society from the future. They rescue artifacts that
they know do not survive in history.
Forever Peace, Joe Haldeman (1997)
Glimmering, Elizabeth Hand (1997)
As She Climbed Across the Table, Jonathan Lethem (1997)
The Cassini Division, Ken MacLeod (1998)
Hated. Hated the main character. Completely turned me off his books.
Bloom, Wil McCarthy (1998)
Can't remember anything about it; would recommend Aggressor Six. Hard SF.
Vast, Linda Nagata (1998)
The Golden Globe, John Varley (1998)
In some ways, a successor to Heinlein. I liked Titan but the sequels got a bit strange. More recently, Red Lightning, is about some youngsters who decide to build their own spaceship and travel to Mars.
Headlong, Simon Ings (1999)
Cave of Stars, George Zebrowski (1999)
Genesis, Poul Anderson (2000)
I'm afraid I've only read Avatar which I thought was good.
Super-Cannes, JG Ballard (2000)
Under the Skin, Michel Faber (2000)
Perdido Street Station, China Miéville (2000)
DNF (did not finish) after I skipped ahead to the end and found out what he'd done to my favorite character. Very gritty, grimy, disgusting world. A very powerful writer, I just don't want to deal with New Crobuzon.
Distance Haze, Jamil Nasir (2000)
Revelation Space trilogy, Alastair Reynolds (2000)
Salt, Adam Roberts (2000)
Ventus, Karl Schroeder (2001)
The Cassandra Complex, Brian Stableford (2001)
Light, M John Harrison (2002)
Altered Carbon, Richard Morgan (2002)
The Separation, Christopher Priest (2002)
The Golden Age, John C Wright (2002)
The Time Traveler's Wife, Audrey Niffenegger (2003)
Too commercial/literary.
Natural History, Justina Robson (2003)
The Labyrinth Key/Spears of God, Howard V Hendrix (2004/2006)
River of Gods, Ian McDonald (2004)
Irish writer. I've read some of his Ireland-set books. His recent books are
set in various places around the world in the nearish future. I started the
one set in Instanbul, but haven't finished it.
The Plot Against America, Philip Roth (2004)
Never Let Me Go, Kazuo Ishiguro (2005)
The House of Storms, Ian R MacLeod (2005)
Counting Heads, David Marusek (2005)
Air (Or, Have Not Have), Geoff Ryman (2005)
Accelerando, Charles Stross (2005)
Read the Merchant Prince books about a family who has discovered how to cross
into alternate worlds and start smuggling. Main character is a lost member, now
found who has to negotiate the politics.
Spin, Robert Charles Wilson (2005)
My Dirty Little Book of Stolen Time, Liz Jensen (2006)
The Road, Cormac McCarthy (2006)
Not a fan of post-apocalyptic novels usually.
Temeraire /His Majesty's Dragon, Naomi Novik (2006)
Alternate history where dragons are real set in Napoleonic era. Just seems too
derivative.
Blindsight, Peter Watts (2006)
I've heard that this books tend to be dark, with squicky characters.
HARM, Brian Aldiss (2007)
The Yiddish Policemen's Union, Michael Chabon (2007)
Wonderful writer with complex plots and finely drawn characters. In this one, a
Jewish state was founded in Alaska, but the lease is about up. Main character is a
police detective.
The Secret City, Carol Emshwiller (2007)
In War Times, Kathleen Ann Goonan (2007)
I've read Queen City Jazz, a post-apocalyptic story set along the Mississippi.
Postsingular, Rudy Rucker (2007)
Mathematician and computer scientist so I should be reading his books.
Shadow of the Scorpion, Neal Asher (2008)
The Hunger Games trilogy, Suzanne Collins (2008-2010)
Uh, no.
Little Brother, Cory Doctorow (2008)
The Alchemy of Stone, Ekaterina Sedia (2008)
The Windup Girl, Paolo Bacigalupi (2009)
Technology now based on springs; James Nicoll did NOT like it IIRC.
Steal Across the Sky, Nancy Kress (2009)
Read earlier works by her and quite enjoyed them.
Boneshaker, Cherie Priest (2009)
Zoo City, Lauren Beukes (2010)
I'd like to read this. Near future South Africa where people convicted of a crime have animal familiars.
Zero History, William Gibson (2010)
Neuromancer really brought cyberpunk to the mainstream. Excellent novel.
The Quantum Thief, Hannu Rajaniemi (2010)
By Damien Broderick and Paul Di Filippo