The Long Way to a Small, Angry Planet and then hurriedly bought and inhaled it. Set in a multi-species universe, it details the lives of a small crew who punch 'holes' that enable FTL travel between solar systems. Normally, they take on smaller jobs, but the captain is hinted at a possible well-paying job that would put them well into the black. The majority of the book details the personal lives of the people on the ship on their journey to this job.

When I was looking at reviews, I saw at least one that thought it was slow-moving. Because I'm a character-oriented reader, I thought the pace was lovely and quite enjoyed learning about the crew of the Wayfarer. Highly recommended.

I then reread (again!) Martha Wells' Raksura trilogy because I needed me some Moon and Stone. Wells is one of my absolute favorite writers with smart characters and interesting milieus. I can hardly wait for the next book! (two more are planned)

I had a last minute trip in mid-January to visit a friend who's dying of cancer (F U cancer!) and meet up with several friends from college. I remembered to take my ARC (advanced reviewer's copy) of Games Wizards Play by Diane Duane. It's part of her Young Wizards series. Nita, Kit, and Dairine are invited to mentor newer wizards as part of a giant, well, wizarding fair. The participants are to build the most amazing wizardries they can, that will benefit others. The winner gets a year-long internship with the Planetary wizard of Earth. Nita and Kit are definitely together as a romantic couple as well as a wizardly team, but are taking it slowly. Dairine is still dealing with the disappearance of Roshaun in a previous book, and their two mentees have their own issues. I liked it a lot, just as I like almost all Duane books, but I think a few of the other books are stronger.

I also continued reading the Tremontaine serial by Ellen Kushner and several other authors. The last segment was released this week and resolved some of the threads. I was greeted at the end of the segment with the news that it will resume later this year. Argh!

I'm currently nearing the end of Gentleman Jole and the Red Queen by Lois McMaster Bujold. I previously read the E-ARC. A lovely, character-driven entry. Stuff happens, but it's mostly detailing how Cordelia Vorkosigan and Oliver Jole are finally moving on after Aral's death.
I sampled Becky Chambers'
Current Mood:

sleepy

Current Music:

wiggles!
Rider of the Crown was released this month. It follows a young woman in a nomadic tribe who ends up bound for a year to another, Viking-ish tribe's leader, as part of a peace treaty. No bed rights come with the treaty, luckily for the Imogen. When the heir to the crown of Tremontane shows up as a "guest." Imogen finds herself entangled in the political maneuverings of three countries. this takes place a generation after the first book. Jeffrey (son of Alison and Anthony) is now king. Very much the story of Imogen learning to think beyond her birth role and tribe and finding a place in a larger world.

The fifth book, Oath Bound, of the Order of the Air series by Melissa Scott and Jo Graham was released this month. The series follows the members of a "lodge" aka magical lodge as they negotiate life, and threats to the world. Alma, Lewis, and Mitch are pilots. Alma was an ambulance drive in WWI while the other two were fighter pilots. Stasi is a mysterious European who's a medium and an ex-jewel thief. Finally, Jerry is a classicist and archaeologist. Jerry is in Alexandria on a Ptolemaic dig while covertly looking for the Soma--Alexander the Great's tomb. The rest of the time are in Italy at an air show showing off two different airplanes. An old friend of Jerry's from Ethiopia shows up and it will require the entire team to help him. Well, Stasi tangentially but she gets a great scene. We get some archaeology, some great dogfights and long-distance flying...I think this is my favorite of the series.

I then decided that I couldn't wait until Monday to see Star Wars: The Force Awakens and started reading the novelization on Saturday/finished on Sunday. It's short, writing is...I'll generously say rushed, so only for completists. I liked the movie a lot, but it's not my favorite of the series. It may improve on a rewatch or two. So glad that Rey was the force sensitive and that she *can* take care of herself. Otherwise, very fun to see old friends and the new characters are interesting.

I then went back to McShane for a set of short stories about Zara North, Anthony's sister and Queen before she died. As it turned out, she had inherent magic and is effectively immortal. Revealing that could have destroyed the country so she staged her death and went out into the world. An interesting reversal of Heinlein's Time Enough for Love as Zara learns that she needs the connections to people to make live worth living.
I continued reading more Melissa McShane books.
Current Mood:

sick

Current Music:

andy grammer, Hallelujah!
Jeweled Fire
is the third book of the Elemental Blessings series by
Sharon Shinn
. So far the books have focused on several women who were all heirs to the crown of Welce. This book focuses on Corene. Corene is the most ambitious, and has found out that she won't take the crown. She decides to drastically change her life by traveling to a neighboring kingdom and vying to marry one of the heirs. There, she makes friends but runs into several mysteries--like why have some many of the royal family died in recent years? Shinn's books are always interesting and fun to read.
I then decided to try the first installment of serial novel,
Tremontaine
, that is being published in 13 installments over several months. It's set in the titular dukedom, home to
Ellen Kushner's
novels--
Swordspoint
,
The Privilege of the Sword
, and one co-written with Delia Sherman,
The Fall of the Kings
. It's set before
Swordspoint
and so far we've met the current Duke and Duchess of Tremontaine; Micah, a farmer's daughter which a mathematical mind; Ixkaab, a young woman of a Mayan-analog trading clan who's been rusticated from her homeland; and Rafe, a young scholar who espouses a much-derided theory that the earth circles the sun. That last thread caused me much amusement in one of the episodes (I've read 5, and 6 is queued up next) when the latter three were talking. Kaab mistakenly let slip that her people know that the theory is true. When she realized her mistake, as Rafe was ecstatic. She tried hurriedly to obfuscate the matter by throwing a false tidbit out, 'Oh, you think the earth is a sphere. Ha-ha, of course not, it's an ellipsoid!" Oh, that was fun. (yeah, I'm a geodesy/cartography/GIS/map projections geek, why do you ask?)
After episode 5, I decided to try
Melissa McShane's
first book in her (oddly enough) The Crown of Tremontane series,
Servant to the Crown
. I'd read her
The Smoke-Scented Girl
earlier this year and enjoyed it. In this book, Alison Quinn, Duchess of Waxwold and editor of Quinn Press, is summoned to the capital city to become a lady-in-waiting to the Dowager Consort. She's furious as she likes her job and life perfectly well, thank you! Anyway, she does take up her duties and gets embroiled with the heir but also a political struggle between the crown and the Scholia, the pre-eminent university. Quite enjoyable. It's mostly a romance, and just what I felt like reading.
Current Mood:

wide awake

Current Music:

andy grammer, hallelujah


I re-read some more Laurie R. King: The Beekeeper's Apprentice and A Monstrous Regiment of Women. I dearly love me some Mary Russell and Sherlock Holmes and am very much looking forward to The Murder of Mary Russell, due out next spring.

I then scarfed down Ann Leckie's Ancillary Mercy. It's a quieter novel, in some ways, very domestic but with an interesting twist at the end that I didn't anticipate. I'm sorry that currently there are no plans for more Breq although Leckie does plan more stories in the Radchaai universe.

Stephanie Burgis has a short story (novelette?) out, "Undead Philosophy 101" which was entertaining (but not Kat, darn it!).

I then started, but didn't finish Zen Cho's Sorceror to the Crown. I liked it fine, but never really felt a burning desire to find what's going to happen to the characters, so it got dropped for another book. I'll try to finish it at some point.

Also started (and closer to completion at 78%), was Diane Duane's Life Boats, a novel in her Young Wizards series. Nita and Kit (and Dairine, Tom, Carl, and many other wizards from previous books) are sent to a planet who's binary companion/moon is about to blow up, annihilating anyone left on the planet. An effort has already begun to "terraform" other worlds for the natives and transport them, but a significant number are refusing to go. Nita and Kit are tasked with helping maintain the world gates that are shuttling people to the new worlds.

It was dropped (I will finish it next, likely) to read the eARC (electronic advanced reader copy, like a beta version) of Gentleman Jole and the Red Queen by Lois McMaster Bujold. I characterized this to someone who just whipped through the Miles books in the last year, as "the story of two people who were devastated by Aral's death and are now, 3 years later, ready to move on and see where life will take them." It's set on Sergyar and focuses on Cordelia and Jole. Jole was aide to Aral, then became Admiral of the Sergyar system several years prior. Miles, and family, does make a brief appearance.

Next up: Jeweled Fire by Sharon Shinn and Black Wolves by Kate Elliott.
Whew, I just could not seem to get my act together and post.
Current Mood:

waiting

Current Music:

wiggles
Instead I reread Patricia Wrede's Frontier Magic series which is comprised of:


Thirteenth Child


Across the Great Barrier


The Far West


Set in the 1800s, it's an alternative Earth complete with magic and a lot of magical plants and creatures. Franklin, Jefferson, and ...someone else set up a magical barrier along the Mississippi, and connecting into the Great Lakes and the St. Lawrence to hold back the majority of the magical creatures and enable homesteading. A few hardy souls are starting to homestead on the far side of barrier and investigate what's in the west. Eff is the thirteenth child of a college professor father, and the twin of a double-seventh son. She's supposed to be quite unlucky based on classical magic theory, and having problems with relatives who believe it. Her parents decide to relocate to the frontier and a new college where it won't be obvious that she's a thirteenth child. Eff ends up assisting professors in caring and studying the fauna and flora, including traveling beyond the great barrier. Very fun stories, but reading them back-to-back, I found myself getting a little bored in the third book--too repetitive. I'd still love to catch up with Eff.
I then felt like reading Caroline Stevermer's
A Scholar of Magics
but thought I should read
A College of Magics
. The latter focuses on Faris Nallaneen, the heir to a Ruritanian country in eastern Europe. Sent off to Greenlaw (in France) to acquire polish, she ends up learning magic too, and becomes quite powerful in her own self. Her best friend, Jane, is a major character in the second book, when she is sent off to Glasscastle (in Britain) to convince a scholar there to take up a similar position to Faris's. While there, she ends up working with Samuel Lambert, an American sharpshooter, who is helping with some research. Both books are just lovely, with interesting twists and turns.
I also read Lois McMaster Bujold's new novella, "Penric's Demon", set in the Chalion universe, I think earlier than Curse of Chalion. Light fluff, but an engaging character.
I also read a short story by Megan Whalen Turner set in her Queen's Thief series. The story is about Eugenides as a child, hell-bent on becoming the Thief like his grandfather.
In other fun news, Martha Wells announced that she's sold a duology, set in the Raksura universe. Yay!!! Happy Dance!!!!
After a big purchase of books on "Buy from Tor" day, plus illness, busyness at work, I haven't been in the book to read a new author.
Current Mood:

sick

Current Music:

All about that bass
Originator
. Kresnov is a cyborg (artificial person?) who fled her creators in the League and has made a home for herself on Callay, a Federation planet. More cyborgs have ended up there and many are getting high government positions. While Tanushan society is relatively liberal, the pressures are building. The League is having trouble with societies going haywire which turns out to be due to using alien technology in their implants and networking technology. Kresnov and her kin aren't effected by it (as much). There is much interdepartmental maneuvering and politicking between various groups and more is revealed of the aliens. Kresnov has also adopted three orphans she found in a previous book and is finding strange new feelings arising in her relationships with them. Generally very fast-paced stories with a lot going on. Kresnov's been powering up quite a bit, which I'm eh about. Recommended, but start with the first book,
Crossover
.
I then decided to read Katherine Addison's
The Goblin Emperor
as it's a Hugo nominee. I was iffy about reading it based on several reviews that I'd seen. I did enjoy it a lot, and hope that she writes more in this world. I didn't think it was great! the way some do, and will rank it below
Ancillary Sword
. In a world filled with elves and goblins, the elvish emperor married among others, a goblin for political reasons. She gave birth to a boy, who was several down in the order of inheritance. After his mother's death, he was exiled to a distant estate with a guardian who hated him. As a late teenager, his father and all the heirs ahead of him are killed in an airship crash. The reviled, innocent Maia has to navigate a complex court and try to keep from being killed himself. It was very interesting to see Maia try to navigate the court, and still try true to himself. He does find a few allies, but some bitter betrayals as well.
While waiting for the second Raksura collection by Martha Wells to arrive, I re-read the trilogy,
The Cloud Roads
,
The Serpent Sea
, and
The Siren Depths
. What can I say again? I really, really like these books, and hope Wells will be able to publish more in the future. I think there are no contracts for more, unfortunately. The collection,
Stories of the Raksure II: The Dead City and The Dark Earth Below
, are novellas. The first takes place just after Moon fled the city of Saraseil after it was taken over (and consumed) by the Fell. Moon had been orphaned as a child and didn't know what race he was. The Fell were the first ones that he'd see that looked similar. He soon realized they weren't his people, and fled. The settlement that he winds up in is menaced by "miners" and a second race that have come to fight the miners for control of a city buried underneath the jungle. "Mimesis" is a story about Jade and was previously published. "The Dark Earth Below" takes place as Jade is about to give birth. The Kek, a frail vegetarian race that lives on the forest flow below Indigo Cloud colony (set high in a giant tree), have asked the Raksura to help find some missing members. They end up finding an airship with injured people. How they got injured is the mystery they have to solve. Another very good collection from Wells.
While poking around on Amazon looking for Kindle ebooks, I came across a self-published collection by Jennifer Roberson with two stories in her Tiger and Del series. The first one, "The Lady and the Tiger", which has a lovely twist if you aren't familiar with the series. "Rite of Passage" is set sometime early during the series when they take a commission to retrieve an important man's son.
Finally, I just raced through Andy Weir's
The Martian
. Set in the near future, the main character Mark Watney is a member of Ares 3, the first manned mission to set foot on Mars. A disaster takes over the mission, Watney is injured and presumed dead, and the rest of the crew flee the planet. As it turns out, he isn't, and aided by his mechanical engineer/botanist background, tries to figure out how he can survive for 4 years until Ares 4 arrives. Communications are out, so he thinks no one realizes that he's alive. Within a few months, NASA does realize, and a wild, all-out-effort starts to try to rescue him. Totally a geek book, full of techno-speak. As many have pointed out, the characterizations are shallow at best, but hey! that's not what the books about. I don't remember if I saw this xkcd cartoon before I started reading it or not, but it sums up the book pretty good.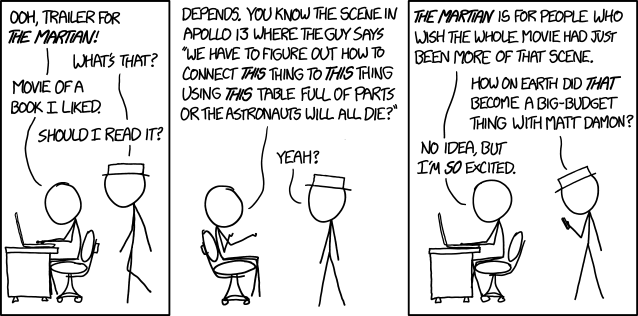 If you like this kind of thing, loads and loads of fun. There was one instance when someone on earth goes, hmmm, and starts calculating. I guessed what it was! That was nice. Later, the announcement that the idea was going to be followed through on was announced with, "XX XX is a steely-eyed missile man" and I started laughing and shouted, Apollo 13!
In May, I finally finished Joel Shepherd's late Cassandra Kresnov book,
Current Mood:

happy

Current Music:

shut up and dance with me!


I read a few more Elizabeth Peters books from the Amelia Peabody-Emerson series, all later ones. There are rumors of a final book but only a large print edition listing has shown up.

Based on a recommendation by Sherwood Smith, I read Melissa McShane's The Smoke-Scented Girl. Set in an alternative 19th century world complete with magic, Evon is a wunderkind, one of the strongest magicians for a generation. He's currently employed by a magic firm and provides custom solutions. His friend, Piercy, works for the government and manages to hire Evon. The goal is to locate a rogue magician that is immolating people scattered across the country. One purpose is just to stop the murders but the government (and Evon's regular employer) want the secret to the fire spell so that it can be used against an invading army. As Evon and Piercy investigate the murders, Evon realizes that it's a woman and that the spell may not be under her control. The "murders" are mostly of people who some might say deserve it--child molesters, murders, etc. Evon and Piercy finally do catch up with Kerensa who is under the control of a great spell. They now have to stay out of the hands of another magician's group, the government (to free Kerensa is not the govt's goal), and figure out the spell's connection to the invading army.

I enjoyed the book. The characters are well-drawn. I liked the fact that Evon kept thinking that he was close to a solution then finding out he'd been wrong and having to completely change his approach.

Joanna Glenn is a pseudonym of Jo Graham and Passion's Dance is an early book finally released. Because it's a historical romance, she's released it under the Glenn name. It's set in Paris in mid-19th century and is the story of a Paris Opera chorus dancer (Mirande) who gets involved with a destitute lord (Bernard) and treason! It's written early in her career and doesn't have the depth of Graham's later works (which are all recommended btw).

I then tore through the latest C.J. Cherryh novel, Tracker, set in her Atevi universe. It's about two years after Bren, Cajeiri, and Ilisidi returned to the atevi homeworld and helped Tabini (Cajeiri's father and Ilisidi's grandson) back into power. The refugees from Reunion station are mostly on hold in the orbital station and tensions are high. Bren finally agrees to help figure out a solution when the kyo, the aliens they met earlier, show up for a visit. So the original contact team--Bren, Cajeiri, and Ilisidi--have to head to the station. Meanwhile, both the station's chief and the "head" of the Reunion refugees are causing problems and must be taken care of...

Let me tell you--cliffhanger!! While the obstructing leaders are dealt with, and some other issues are handled, the kyo haven't even reached the station yet! Argh!!

Martha Wells then had a short story collection, Between Worlds published as part of a kickstarter campaign. There were two Ile-Rien stories, one about Kade and another with Reynard and Nicholas just before Nicholas meets Madeline. The latter story is new (yea!!). The other stories in the collection are about Ilias and Giliead in Cineth. Loads of fun revisting Ile-Rien and Cineth.

I then read a contemporary story by Moira J. Moore ("Resenting the Hero" series) called The CEO Can Drop Dead which she calls a "That's Not Romance Novel." A writer who takes temp jobs to help pay the bills ends up at a start-up organizing past emails to see whether a lawsuit against another company is possible. The founder/CEO, Lance, immediately starts targeting her first as a bully, then continuing to try to get her into bed. Catherine wants nothing to do with him and spends several weeks trying to avoid, mitigate, and just get out with her job done. A nice display of how a predator makes use of "oh, he's such a great guy" and getting aid from colleagues and underlings who think actions like his are "no big deal." Moore has promised a portion of her royalties to organizations that deals with survivors of abuse.
Another big gap between posts!
Current Mood:

awake

Current Music:

wiggles/backyardigans


I was waiting for a few books to come out, and none of the new books sitting around were enticing so I ended up (re)reading a few Elizabeth Peters books in the Amelia Peabody-Emerson series. Both were later books, set after Ramses is an adult: Children of the Storm and The Golden One. I enjoyed the later books, after Ramses (Amelia's son) became an adult and had more control over his own destiny. These are set in and around WWI. This series can be an acquired taste. I liked the first book when I read it, somewhat of a pastiche on the old Haggard / romance novels, but Amelia, Emerson, et al. really grown on you, and I've wildly enjoyed almost all the books. I'll shall likely continue to acquire the ebooks and re-read the rest of the series this year. Oh, the Peabody-Emerson clan are British archaeologists in Egypt who end up tangling with a Master Criminal, tomb robbers, spies, and other nefarious characters.

It was definitely a short novel, but I managed somehow to finish Jo Walton's My Real Children over a weekend. It's the story of a woman relegated to an Alzheimer's unit who has confused days, and really confused days. So confusing that sometimes she remembers having 4 children and sometimes remembers having 3 children. The book tells both stories which led out of her having to answer 'yes' or 'no' to her boyfriend about whether she would marry him. Both stories had good and bad parts, so there's no answer as to which answer was correct. I found it very haunting and sad, and very difficult because I'd had a hard week, and it made for a hard weekend too. The ending though, wow. Also hard because my father lost his facilities before he died (as his mother did but hers was gradual and his more abrupt), and my maternal grandfather had also had problems before he died.

I definitely needed an upper after that, and settled on A Civil Campaign by Lois McMaster Bujold. Miles Vorkosigan has fallen in love...he has a plan! I'm still not sure about the very visceral fight near the end (a bit too slapstick for my liking), but the Council of Counts scene, and of course, the dinner party earlier--priceless! Although someone could read this as their introduction to the Vorkosiverse, reading the rest of the series adds quite a bit to understanding the undercurrents and comments that occur in the book.

The eARC (electronic advanced reader's copy) of Dragon in Exile by Sharon Lee and Steve Miller was released either late in January or early in February. It continues from I Dare, Dragon Ship, and Necessity's Child. It opens a new five book series. Set mostly on Surebleak, it reveals that DoI is definitely still after Korval, and that there are likely other enemies of the clan heading to Surebleak to have their revenge, or to revel in Korval's downfall (as they think). Not a good place to start in the Korval Universe.

I then happened to see a reference that the Cormac and Amelia book was out, Low Midnight. This is a side book to the main Kitty Norville series, featuring Cormac, her husband's cousin, and his resident magician/wizard, Amelia. Cormac was convicted of manslaughter (I think) and has to spend several years in prison. While there, he's taken over by a ghost or spirit of a woman who had been convicted of murder and witchcraft a hundred years earlier. They combine forces to kill a supernatural creature, and Cormac agrees to Amelia's continued presence in his life. In this book, they take on a few mysteries trying to help Kitty and her battle against an ancient vampire who plans to take over the world. I like Cormac and Amelia a lot so was quite happy to read this book.

Meanwhile, the latest Order of the Air book, Wind Raker, by Melissa Scott and Jo Graham was released. Yeaaaa!!! These books deal with a set of aviators in Colorado, Gilchrist Aviation, a medium (she can see and talk to ghosts), and an archaeologist. They're also part of a lodge (magical). In this book, the archaeologist has been given a job on Oahu to prove that he can handle a dig. If it works, he'll be able to work on a dig in Alexandria, where they may have a lead to Alexander the Great's mausoleum. Why is it a problem? Jerry lost part of a leg in WWI, and it's the 1920s so getting around can be difficult. Meanwhile, Gilchrist Aviation is asked to test the new Catalina sea plane, also in Hawaii. At the same time, one of the aviators, Mitch and his wife (the medium), Stasi have custody of the three kids of a laborer/mechanic who left the kids and hasn't returned. Everyone ends up in Hawai'i, where they encounter Pelley again, a woman under a curse, and some early German shenanigans. Lots of fun.
Whew, it's been a while since I posted. I had a few dry periods, particularly over the holidays, but have been cracking along (relatively) since mid-January.
Current Mood:

happy

Current Music:

american authors, pink
Heroes' Reward by Moira J. Moore. This is the final book in her Heroes series which started with Resenting the Hero. I really enjoyed the first book in series and eagerly awaited the sequels. The series didn't perform that well, and the publisher went back and forth on publishing the latter entries. Ace did finally publish 6 novels in the series between 2006 and 2011.

Moore released the final book in 2012. The series is set on a lost colony world (the resident know that they were colonists). The world itself is tectonically and meteorologically active. People were born (possibly genegineered?) to be Sources or Shields. Sources can affect the disturbances while Shields can guard the minds of Sources while they're 'channeling' the forces.

Source Shintaro Karish and Shield Dunleavy Mallorough are paired up when they graduate from their respective Academies. Both are talented and not happy to find their matched up. Over time, they fall in love and discover that both have extraordinary talents.

Lee finds that she can 'cast' or perform spells. These abilities are outlawed, sort of, and casters keep well-hidden. Taro can heal and cause 'incidents' as well as stop them. Because Taro is also a member of the aristocracy, they get involved with the current Empress, political machinations among the landed gentry, uprisings, etc.

I was not that thrilled with the addition of the casting a few books ago, but I was still happy to see the threads tied up and everything ending as well as could be. Perhaps we'll see more of them in the future, but Moore has other books that she's been working on (one should be out soon).

I then read a trilogy by L. Shelby aka Michelle Bottorff, Across the Jade Sea. The three books are Serendipity's Tide, Treachery's Harbor, and Fealty's Shore. They're set in a modified Earth (geography is different, but there are "Tartars" northwest of a China/Japan analog). The technology level is late 19th/early 20th century. There are some undersea cables, telephones are just getting installed into private residences in the more technologically advanced countries, and guns and cars are available.

The first book is narrated by Batiya Latikov, an apprentice engineer on an ocean-going diesel ship. The ship rescues several Shanali (Changali) men from a shipwreck. It turns out that they were attacked by what appear to be pirates. After another attack that kills all but one of the Changali, Batiya and the survivor, Chunru, end up in one of the ship's boats.

Chunru is actually an imperial prince sent to re-open diplomatic and other ties with another country. Someone doesn't want that to happen. Because Batiya has been drawn into this mess, the two end up saving each other multiple times while trying to find somewhere safe.

It is a love story, but it's also a rip-roaring adventure, and Ms. Shelby and really move the story along. I really enjoyed these books and wish there were more set in this world. I'll definitely be getting Shelby's other books.

Note: They're available as ebooks only and self-published. Another round of copy-editing would have been useful as there are some it's rather than its, missing words, wrong words, etc. Not tons, but more than I usually see in a professionally published book. Normally, errors like these bug me, but the characters and story were too interesting.

I didn't get much reading done over the last month or so. Nothing really tickled my fancy. I finally decided to make a concentrated effort to finish
Current Mood:

happy

Current Music:

meghan trainor


**SPOILERS for Ancillary Justice**

Yea!!! Ann Leckie's second novel, Ancillary Sword, finally came out in October. The first, Ancillary Justice, took home a bunch of awards last year--deservedly so. This book continues to follow Breq as she takes up with one of factions of her emperor, Anaander Mianaai. Mainaai has multiple cloned bodies, which have now split among how to maintain, or not, the Radchaai empire. Breq is given control of a small area--the only duty she would take because the sister of someone she killed lives there.

Once there, she finds several other mysteries and, of course, problems that she will try to fix or figure out. As many other reviewers have said, it's a much more interior book. Breq appears to have had a very solitary existence for about 20 years after losing her AI and other bodies and has to now re-adjust to dealing with a lot of contact. We find out more about the aliens through a very, very strange translator who shows up. Anyway, recommended, recommended, recommended.

I also reread Patricia Wrede's Magician's Ward which is set in an alternative Regency London. Kim has been rescued from the streets by an aristocrat and made his ward. Kim has the ability to become a wizard, and Merrill (Mairelon) will help her. A sweet, fun little story.

I then felt in the mood for more historical fantasy and reread Guy Gavriel Kay's A Lion in Al-Rassan. Set in an alternative almost-Reconquista Spain, it follows a young Kindath (Jewish-analog) doctor as she gets caught up in the struggle between the Jaddites (Christian-analog) and the Asharites (Muslims) in Spain. Rodrigo Belmonte is "El Cid" and Ammar ibn Khairan is a "renaissance man" (so to say!) among the Asharites. It's my favorite Kay book and the one I reread most often. The characters are beautifully done.

I'm still in the midst of Lord of the Two Lands by Judith Tarr. This one is set just before and while Alexander the Great conquers Egypt. Meriamon, a priestess and daughter of Nectanebo, comes to Alexander to ask him to becomes Pharaoh.
I believe I'm missing at least one book, but it would have been a reread.
Current Mood:

awake

Current Music:

All about the base, no treble